Make Sales, Make Sense With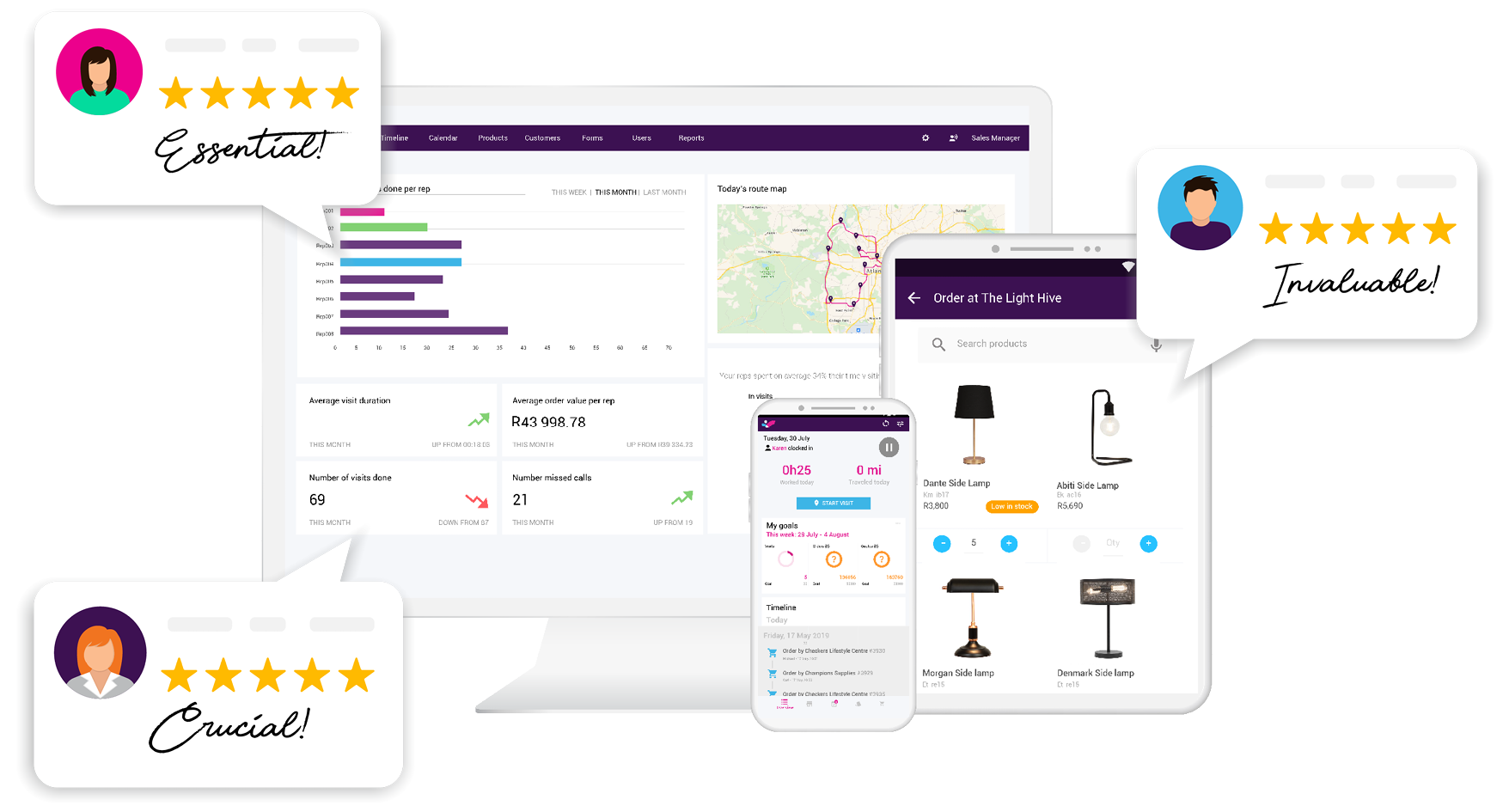 The sales software that does the job of six tools
Want to hit your numbers and then make it home in time for dinner?
Well, work smart not harder with Skynamo.
Live orders? Check. Real-time stock? Double-check. Instant reports? You bet.
Make money, save time, and leave the admin to our tech.
Eyes on the road, and on the team. All at once.
Watch live sales unfold, sort out customer queries, and be in the loop of every order—wherever your desk may be.
Welcome to the future of managing.
Data mayhem? Consider it tamed. All your sales data, no mysteries. Ask the big questions, get instant answers.
Why crunch numbers when we serve them to you on a silver platter?
With Skynamo RADAR, you don't need an analyst to outsmart the competition.
Know your customers like you've got insider info.
Predict their needs so well, they'll wonder if you are using AI. And you are: Actual Intelligence.
As you dive into their trends, they won't have eyes for anyone else.
Your insight today, their loyalty forever.
Feel like you have more ducks than you have rows? Spreadsheets spreading you thin?
Get sales reports that let you forecast the future so well, time travelers would be jealous!
Draw back the curtain of your earnings, highlight those pesky money-drainers, and shine a light on where the goldmines lie.
Its easy to dig deep when you have the sharpest tool in the sales shed.
Measurable results from the #1-rated field sales CRM
+
Customer visits per month
$+
Worth of closed deals / month
Connect seamlessly

with your existing tech stack!
Skynamo's integration team enables seamless integration with all your favourite tools. With over 700 successful integrations, our award-winning integrations team reduces risk and keeps your costs down.
Get your hands on

award-winning

software
Recognized as an industry leader in field sales, route planning and sales performance management software categories
Your data's not just digits—it's dignity. And we treat it with top-tier respect, armed within our ISO-certified fortress of security. Because if it's valuable to you, it's vital to us. Insist on data defense that dazzles, insist on Skynamo.
At Skynamo, we believe our most advanced tech wears shoes. While we're proud of our software, it's our human touch that truly sets us apart. No hidden fees, no automated responses—just dedicated professionals eager to keep your sales team on the frontline of success. We grow as you grow, stand by you during challenges, offer tailored training, and always have your six. Because at the end of the day, while our sales tech is awesome, our people are unmatched.
At Skynamo, we're not just jacks of all trades—we're masters of (most) industries. From bustling factories to quaint family businesses, from the clinks of wine glasses to the hum of heavy haulers, and from hearty farmers to suave distillers—whether you're selling wine or peddling time, we're your go-to crew. Why? Because your business is our jam! And we're always listening.
Real-life results and revenue
See how companies like yours smash their sales success goals with Skynamo
Sales clarity is a click away
Ditch the ordinary, dial into dynamo! Enquire about your tailored subscription today, and harness all this firepower in one easy to use sales app.
Leverage sales opportunities, empower your reps, and outsmart tomorrow's sales with Skynamo!